Bachelor study program
Electronics and Communications aims to provide a broad theoretical knowledge and practical insight in the field of electronic systems, communication technologies and networks, audiovisual equipment and related signal processing. Graduates are equipped with knowledge how to design electronic systems, electronic devices and their components, and they also gain functional knowledge of the principles of electronic components and integrated circuits. Controlled procedures for efficient processing and analysis of different kinds of signals and modulation, audio and video processing, and the individual systems are able to be understood as an interconnected whole. Knows wired or wireless communication technology and can design these technologies, from various radio and optical components to optimize network and routing data flows at higher layers of communication.
Master's degree program Electronics and communication directly follows the completion of a bachelor degree block and provides in particular the deepening basic knowledge and skills with the possibility of profiling in the fields of:
Start your career in the right place
We will give you a good theoretical foundation built on high-quality vocational subjects and laboratory facilities.
You will learn to analyze and process various kinds of signals, understand the principles of analog and digital communication, familiar with electronic components and design of the communication chain, from the actual radio or optical components, to optimize the network and routing data flows.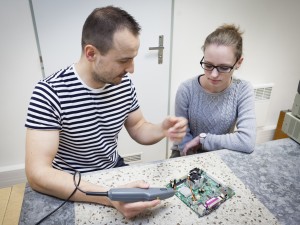 Get involved in scientific projects
You can participate in domestic and foreign projects research teams.
Take advantage of opportunities to study at prestigious universities collaborating from around the world (UK, USA, Hong Kong etc.). We work with companies and institutions such as. ESA, CERN, Rohde & Schwarz, ST Microelectronics, Texas Instruments, O2, Cetin, T-Mobile, Vodafone, Alcoma, Cesnet, Bosch, CEZ and many others.
Communications across the world
Electronics and communications use every day.
Communication systems, mobile technology, satellite navigation, optical technology, electronic components and equipment, audiovisual systems, antennas, sensors. You will be perceived as a complex low-voltage electrical field. We will teach you to form systems of tomorrow.